CRM for Higher Education: 12 Best Options to Consider by Sirley Carballo · Sep 03, 2021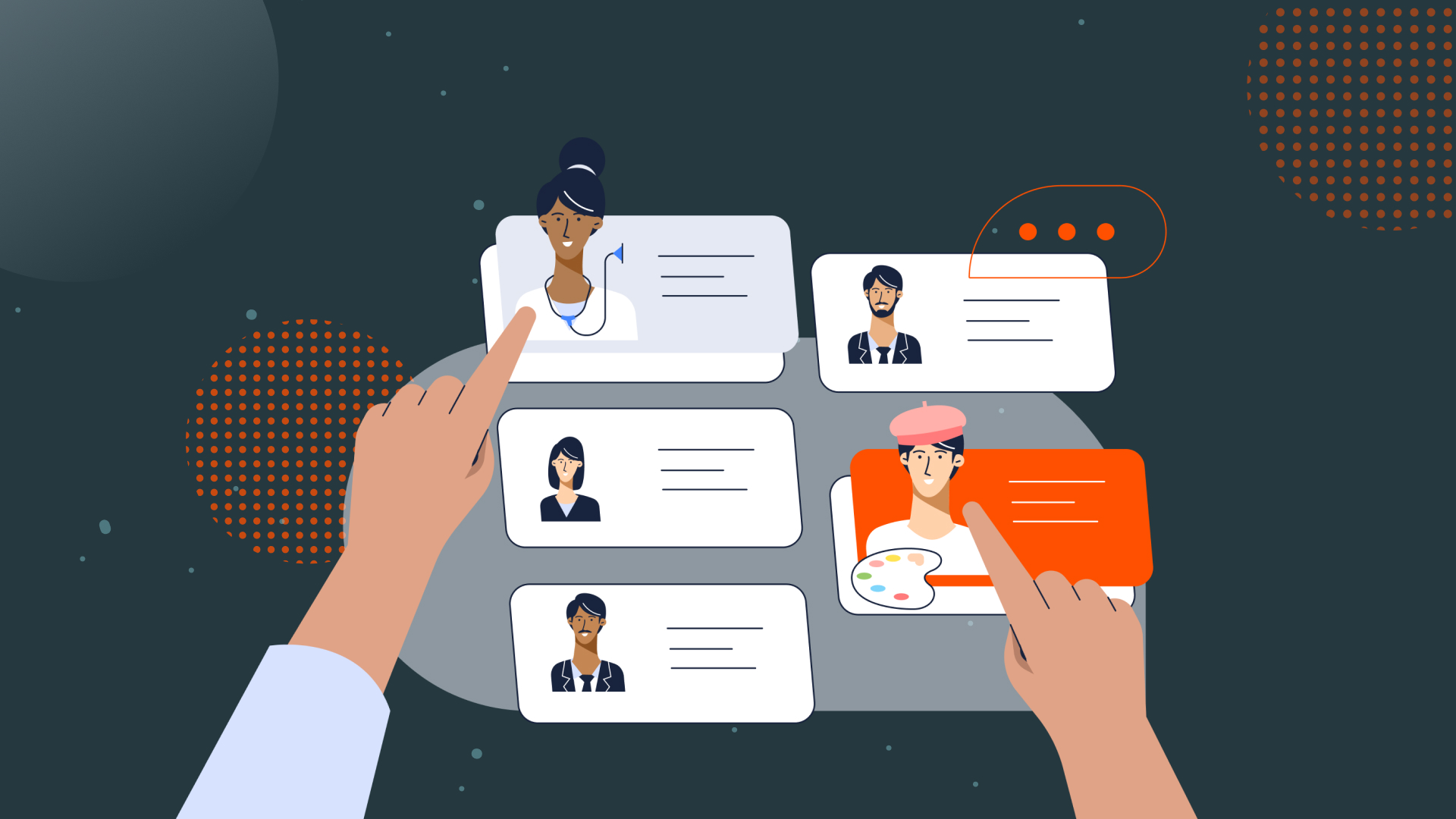 For higher education institutions looking to become more resilient in the face of constantly changing trends, enrollment is a top priority. While it's no secret that college enrollment can ebb and flow with student expectations, current events, and other trends, the number of active and engaged students always matters.
To increase college enrollment, campus leaders must be smart, flexible, and innovative. Tech and digital trends are more prominent than ever in the college enrollment process. As a result, these channels are critical to long-term success.
In this post, learn how to increase college enrollment with smart, tactical, and hands-on strategies that you can use starting today. 
What is College CRM Software?
College CRM software allows higher education institutions to collect, maintain, and analyze data about prospective, current, and past students. In many cases, CRM systems are used to make crucial touch-points throughout the student lifecycle, from initial application all the way to graduation.
A higher education CRM system also helps staff members improve communication both internally and externally. Because CRM data is visible cross-departmentally, everyone who interacts with a student can view and log information about the student's holistic experience.
As digital platforms, CRM systems integrate with other business-related apps and processes with the goal of completing administrative tasks more effectively.
Benefits of Using a CRM for Higher Education
There are many advantages to utilizing a CRM at colleges and universities. Although this data framework functions behind the scenes, it enables a unified and transparent experience for college students. 
Benefits of higher education CRMs include:
Elimination of data silos – In higher education, departments work separately, but share the collective goal of serving students. Thus, it's critical for all staff members to have access to the same set of data when providing customer support and guidance.

Time saver – Most CRM systems have automation tools that replace manual processes. These features allow staff to focus on more significant interpersonal communication and tasks.

Transparency across departments – College departments require real-time and historical data to make decisions that influence the entire campus. A CRM system promotes clarity as a way to improve the business and administrative culture of higher ed institutions.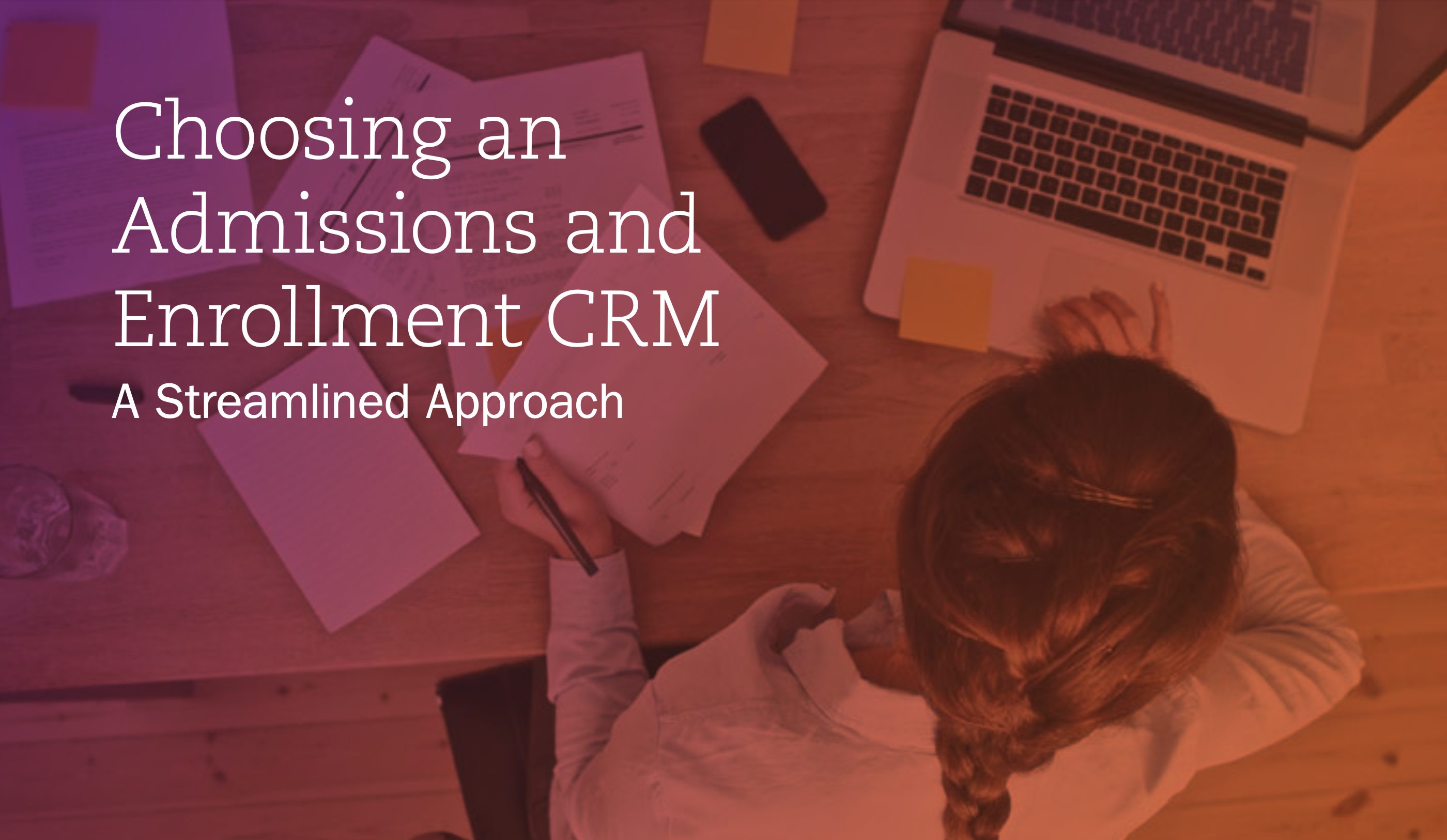 Guide to Choosing a CRM for Higher Ed
Learn what to look for when choosing higher education marketing and enrollment software.
Download the White Paper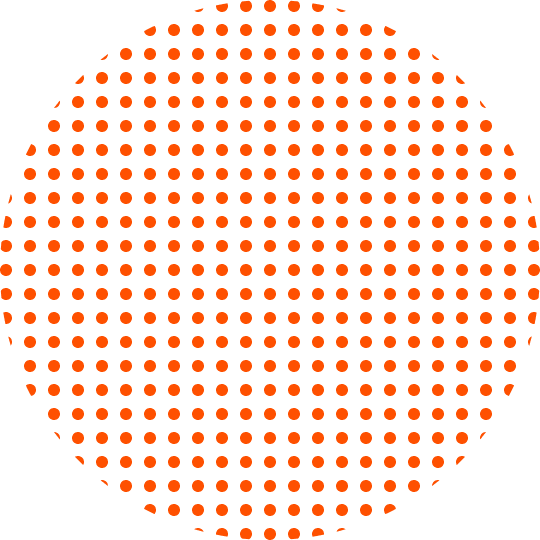 How Do Higher Education Institutions Leverage CRM Software?
The use cases for CRM systems are nearly limitless, and finding success with a CRM strategy is possible for any school that is willing to implement, adapt, and scale.
Many higher education institutions leverage automated CRM solutions for the following reasons:
To build strong relationships – The higher education experience is founded on the principles of community and relationships. CRMs should empower these efforts at the campus level so that leaders and staff members can connect with students from the day they step on campus.

To gain valuable data insights – Beyond the social and academic aspects of college life, leaders must make critical decisions about the school's strategic direction, technology needs, enrollment campaigns, and more. A reliable data source can make these business decisions easier and more predictable.

To stay connected to alumni – Graduates are still important members of the university community. Regular CRM updates keep alumni engaged and make them more willing to give back to the school or local community.
CRM Platforms and Student Engagement
A higher education CRM isn't just important for connecting with prospective students. Even after they become applicants and enroll in an academic program, students may have high expectations for digital engagement. A good CRM can help modern schools meet these expectations and remain competitive.
Managing the Student Lifecycle
The benefits of using a CRM platform include having the opportunity to oversee key milestones throughout a student's journey. Retention, or the ability to keep a student enrolled for the duration of their academic program, is vital. When institutions have more ways to communicate and assist students, retention becomes more achievable.
Transforming the Student Experience with Better Data
Even at the collegiate level, students require help and support at crucial times. Using a reliable CRM can help staff members, instructors, and advisors deliver better guidance. Historical data may also help universities assist struggling students earlier through the use of smart alerts and personalized communications.
Best CRM for Higher Education
There are a number of CRM software options for higher education institutions. This variety allows colleges and universities to make the best CRM decision based on strategic goals, budget constraints, and the type and number of user licenses that are needed.
In the list below, we've rounded up some of the most popular CRM platforms for higher education institutes to help you define your CRM wish list and find the best fit.
1. Element451
Element451 is a student engagement CRM for higher education admissions and enrollment. This powerful, data-driven platform was launched to help college admissions professionals reach enrollment goals with speed and precision. With the rising expectations of students and learners, it's more important than ever to deliver an intuitive and personalized experience.
Element451's features are designed to give staff power while saving a significant amount of time and effort. The platform is constructed with artificial intelligence capabilities that deliver engaging, personalized touch-points from the moment of initial inquiry to final payment.
This highly automated platform delivers impressive engagement and analytical capabilities. Pricing starts at $20k annually and corresponds with the number of admissions applications a school receives each academic year.
2. Slate CRM
Slate by Technolutions is a CRM platform built specifically for admissions and enrollment professionals. Slate captures and personalizes all parts of the student engagement cycle–from initial application to alumni and donor relationships.
Slate integrates with popular higher education applications including Banner, Colleague, PeopleSoft, PowerCampus, Jenzabar, and more. It also offers advanced document management features, in-depth communication tools, video integrations, payment features, and industry-leading security options.
Slate license agreements begin at $30k annually, with the majority of customers falling in the range of a $50k per year investment. Each annual subscription is flat-rate, comprehensive, and predictable. Due to the integration capabilities, most users are able to eliminate third party applications in order to justify the cost of using Slate.
3. TargetX
TargetX is a full-scale CRM solution built to help higher education institutions manage the entire student lifecycle. Customers turn to TargetX to achieve goals such as:
Increasing enrollment numbers
Building community across student populations
Driving better insights and analytics
Enhancing student success
The TargetX platform is built in different suites, including the Enrollment Suite and Retention Suite. These features increase staff productivity while providing a more intuitive student experience. This CRM's flexibility and connection to tools like Salesforce make it a popular choice among many types of universities.
While pricing is not publicly available, users can request a product demo to see how TargetX solutions work for a particular college or university.
4. Salesforce (Salesforce Education Cloud)
Salesforce is one of the world's most recognizable technology leaders, particularly in the realm of customer relationship management. The Salesforce Education Cloud for Higher Ed is a specific tool to help schools drive institutional and student success.
This CRM system is best for users who are already leveraging Salesforce for their education data needs. The Education Cloud helps staff members achieve digital transformation at any institution looking to transform processes and migrate to a streamlined, mobile, and cloud-based platform.
The Salesforce Education platform is most recognized for its Education Data Architecture (EDA), which creates a seamless way to stay connected with students for life.
5. Zendesk
Zendesk for Education is a subset of the Zendesk platform for customer service. Zendesk's approach to education is to help schools adapt to a new normal in which remote learning, budget cuts, and higher demands are more prominent than in years past.
As a CRM software, Zendesk for Education clarifies and simplifies the operations process so that schools can maintain open communication with students and families. Connected communication channels include email, chat, phone, and social media.
Zendesk's higher education software is known for being user friendly and quick to implement. When it comes to selecting the right software solutions, Zendesk delivers powerful options without the need for additional IT support. To get started, users can select from a free trial or a product demo.
6. Zoho CRM
Zoho CRM is a CRM system used by over 250,000 businesses and organizations worldwide to improve the sales cycle and customer relationship process. Benefits of Zoho CRM include:
A simple solution and easy-to-use interface
Affordable monthly billing options for any sized business or school
Consultation, onboarding, and training support for easy migrations
Secure integrations with other widely used apps and platforms
Although Zoho is not exclusive to higher education, users can activate the Educational Sector feature to create modules and fields that are specific to student data management.
7. Keap
Keap is a CRM platform designed for optimizing and automating the sales and marketing processes. As a result, Keap may be most beneficial for universities that need a CRM system to manage outreach, recruitment, and enrollment.
Since Keap is all about conversion, the platform establishes initial touch points and maintains follow-up with a prospect until the deal is won. In the case of higher education, this process may look different than if you were making a business sale, but the features and progression are similar. Automation tools allow universities to direct marketing campaigns more effectively and to reduce the amount of manual communication that takes place between staff and students.
Keap comes highly rated on review platforms like G2, and their free 14-day trial allows users to preview features before purchasing. Pricing is offered in simple tiers that scale from basic all the way up to advanced payment collection integrations and revenue generation.
8. NetSuite CRM
NetSuite CRM is a cloud based CRM software that provides advanced tech solutions for a variety of industries. A specialized School Management Software helps cloud-based colleges and universities scale their existing data initiatives, maximize available resources, and reduce overhead costs.
NetSuite's education-specific product features include:
Financial management (including budgeting and forecasting)
A 360-degree view of student records and contact information
Fundraising capabilities
Analytics and tools that guide decision-making
NetSuite's features are useful for managing prospective students, storing student information and data, and providing software support to department heads or campus leaders.
For custom pricing, users should sign up for a free product tour to learn how this ERP can be implemented university-wide.
9. Hubspot
For schools facing limited marketing and software budgets, Hubspot CRM provides a comprehensive and free customer relationship management platform. Hubspot allows users to centralize all data points with features like:
Email tracking and notifications
Prospect tracking
Meeting scheduling
Live chat tools
Although premium functionality is available, Hubspot's basic features are still powerful when it comes to real-time customer data and reporting visibility.
One of Hubspot's major selling points is that it accommodates unlimited users, data, and up to 1 million contacts with no expiration date.
10. Pipedrive
Pipedrive is recognized for being one of the most easy to use CRMs available when compared to other popular software solutions. As a sales-oriented CRM, this platform is most helpful to schools looking to increase admissions or drive other channels for revenue.
Pipedrive focuses on activity management. This means that staff members can better prioritize important business tasks as they relate to applicants, student enrollment, and school-wide financial activities.
Pipedrive also promotes industry-leading privacy and security features, which are critical for a number of university campaigns. Mobile capabilities provide flexibility and convenience to all users.
11. Ellucian
Ellucian CRM is a software platform built specifically for colleges and universities. Ellucian specializes in improving constituent relationships, reducing administrative costs, streamlining workflows, and increasing fundraising efforts.
From alumni relations, to campus life, to financial aid, the Ellucian platform delivers intuitive features that offer support, consistency, and engagement at nearly every level of the collegiate lifecycle.
12. Embark Campus
For colleges wanting to maximize admissions metrics, Embark CRM is a top choice. With Embark, schools can collect and filter incoming student applications for each level of program and degree. Smart recruitment features also make it easy to manage marketing and outreach initiatives.
The Embark platform is designed to be a fully collaborative software, which gives every individual with approval powers the ability to observe, comment, and act on new information.
Embark also helps colleges and universities create branded connection points for incoming students so that each point of contact is consistent, professional, and intuitive.
Using Higher Education CRM to Manage Relationships Post-Graduation
CRM systems provide a seamless way to collect and keep student information on file for the duration of their program and for many years after. This capability allows institutions to stay in touch with alumni even after graduation.
This post-graduation connection is important for a variety of reasons, including:
Advertising advanced degree options to previous students
Maintaining an active alumni community and professional network
Gathering alumni referrals and recommendations for incoming students
Collecting donations and running successful fundraising campaigns
Inviting previous students to attend on-campus events
When selecting from a list of CRMs, don't forget to consider postgraduate tools that can make alumni communication easier.
Tips for CRM Software Implementation in Higher Ed
Moving to automated software technology requires preparation and strategy. Inadequate planning is why 75% of new CRM projects fail. To help users and stakeholders achieve success, plan ahead for implementation.
Ensure buy-in at every level. Avoid making any assumptions about a new tech solution. Instead, involve every staff member whose job responsibilities may change or benefit as a result.

Only choose secure and compliant solutions. When working with student data, privacy standards are essential. Regulations like FERPA also influence how institutions can engage with students and families, especially across digital channels. Opt for a CRM that accommodates these requirements.

Set internal standards and common processes. Don't leave users in the dark. Take time to outline expectations, provide adequate training, and communicate standards for regular or daily use. These proactive steps can reduce confusion and frustration for each team and individual user.
Conclusion
No matter which CRM platform or software your university chooses, having a game plan is critical for longevity. Customer relationship management provides more than a basic technology solution. A solid CRM strategy can completely transform the relationship between an institution and prospective applicants, current students, and alumni. 
---
There's More
Related Articles