Element451 Launches Bolt AI by Sirley Carballo · Oct 06, 2021
Element451 is excited to announce enhancements to our behavior-driven Bolt AI that extend our automated capabilities beyond admissions and enrollment engagement to support the complete student journey.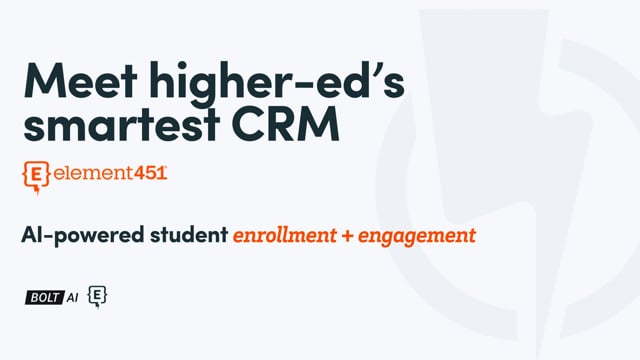 It's no secret that as enrollment numbers decrease, competition for all types of students increases. Plus, student persistence and retention are becoming more vital by the day. Element's Bolt artificial intelligence removes the guesswork associated with older marketing and communications approaches, ensuring you don't skip a beat as you market in today's fast-paced environment. 
Bolt AI features on-the-spot smart audience segments, builds engagement recommendations, tallies real-time student engagement scores, and automates the delivery of customized and timely marketing interactions to your students.
"Our clients are seeing a dramatic shift across the student journey. In order to keep pace, administrators are increasingly reliant on data science to better understand the needs of students and to create the best possible experience from the first interaction through to graduation," said Todd Heilman, our Chief Success Officer. "Many colleges are combining traditional enrollment management functions with traditional student affairs functions to drive a greater impact across key performance metrics."
The ability to share, interpret and apply student data for strategic enrollment and budget planning is the key to success. With Element's Bolt AI, you'll be able to take marketing from a game of hide-and-seek to a behavior-based, programmatic approach with zero need for an analytics background, technical expertise or pricey external agencies. 

Read our full announcement about Bolt AI.
---
There's More
Related Articles