How to Master the Art of Personalized Communication by Sirley Carballo · Nov 05, 2021
If you work in recruitment and admissions you know that a bulk of the work is about nurturing relationships with students. It's not enough to send a million emails about academic programs and RSVP reminders for your next Preview Day. Getting a student through your doors requires one-on-one personalized communication.
With the Element451 CRM, it's easier than ever to manage all your conversations, in one unified inbox. That way, your staff can focus on relationship building by communicating in the ways students want to engage.
Initiating One-on-One Communication
We know students are visiting school websites, so it's crucial to have a chat or messenger embedded into your pages. That way, you're able to instantly answer a question, provide guidance, and more. For many prospects, that chat will be their first one-on-one interaction with your school. Making a great first impression is critical, and a competitive advantage in an era when students apply to more and more schools.
Once a student starts a conversation or replies to a prompt from the chatbot, Element451 automatically associates the conversation with their profile if they have an open session on the site. If they don't, simply push a button to ask for their email address and the conversation will be added to their record if they have one. If they don't, a new record will be created.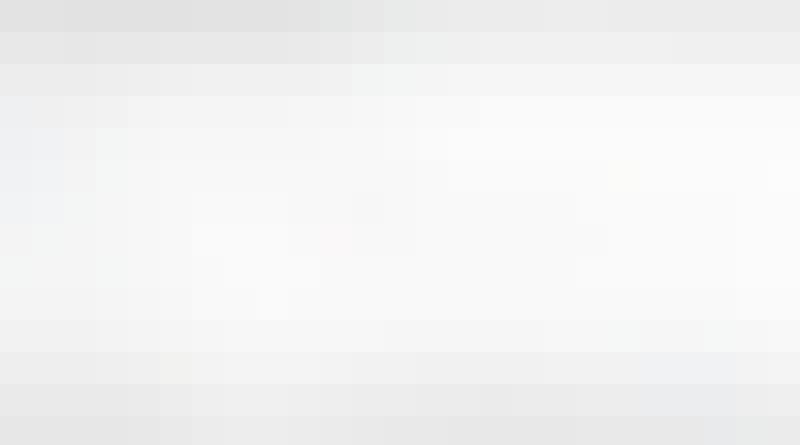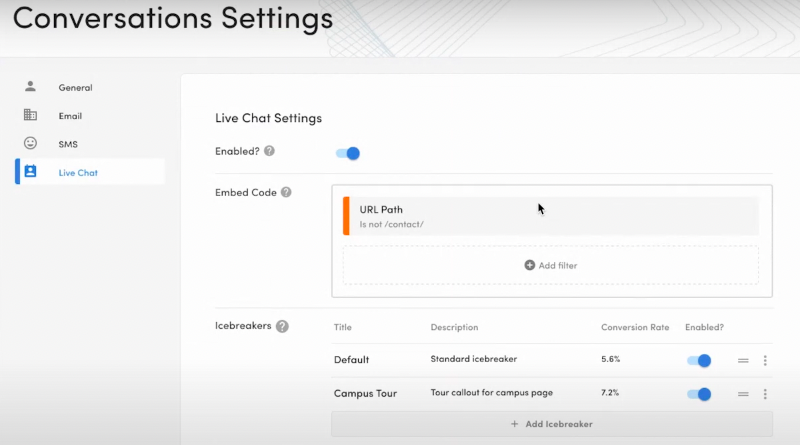 Customize the icebreakers in your chat bot from your CRM.
Continuing the Conversation
It's no secret that students rely on their phones for most of their daily tasks—that includes researching and applying to colleges.
Chat isn't just for answering questions. There are tools for sharing a quick poll, documents, and much more. 
The best part: it doesn't matter if a staff member leaves or is away on vacation. All of the conversations are saved, so you can be sure that no information or students fall through the cracks.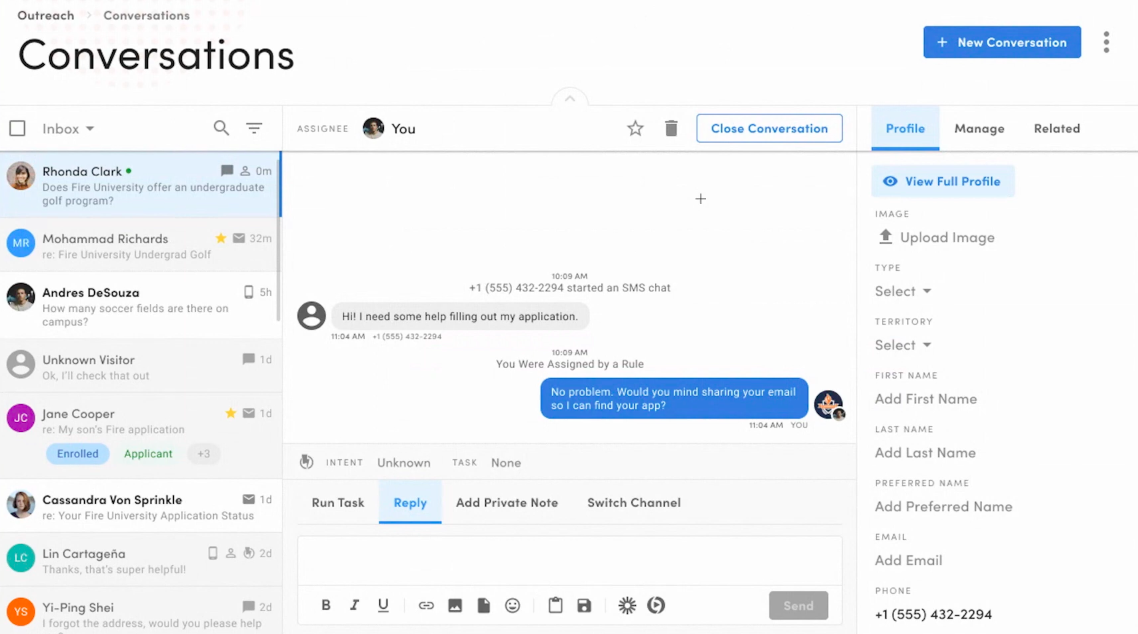 A look inside Conversations in the Element451 CRM.
Integrating Inboxes and Channels
Very soon you'll even be able to connect your work email account into the Element451 CRM. By integrating your inboxes, there's no need to go outside the CRM and work out of multiple web browsers and desktop applications. You can do everything through Element, including setting up custom addresses and names, and even forwarding your emails into Converstions to streamline your process.
We want to enhance your interaction and engagement with students. By centralizing your communication efforts, it's easier than ever to truly personalize your conversations and create the meaningful relationships that make a difference in a student's admissions journey.
---
There's More
Related Articles